About Marcelo F. Larsen, MD
Dr. Marcelo Larsen earned his medical doctorate in 1990 at the University of La Plata, Argentina.
After completion initial clinical training in Argentina he undertook fellowship training in Gastroenterology at the University of Miami/Jackson Memorial Hospital. In addition, after completion of his fellowship, he was invited to join the faculty of Hospital Privado Mar del Plata, and rose to the rank of Chief of the Division of Gastroenterology where he expanded his expertise in advanced endoscopic techniques.
He served as President of the Mar del Plata Society of Gastroenterology and was accepted as member of the Bockus International Society of Gastroenterology and later he became Fellow of the American College of Gastroenterology.
To pursue his interest in academic medicine, Dr. Larsen returned to Miami to complete a fellowship in Hepatology and Liver diseases the University of Miami/ Jackson Memorial Hospital/ under the supervision of Dr. Eugene Schiff.
In 2007 he was appointed as Assistant Professor of Gastroenterology at the University of Miami, where he has been an active participant in clinical and teaching activities across the Medical Campus. During his time on Faculty, he has been responsible for the integration of the Division of Gastroenterology into the University of Miami Hospital (UMH). Additionally he helped to oversee the genesis of the University of Miami Gastroenterology consultation and inpatient services at University of Miami Hospital.
In 2017 he became Medical Director of GI Endoscopy Unit at Jackson Memorial Hospital where he served until 2019.
Dr Larsen is ABIM Board Certified in both Internal Medicine and Gastroenterology.
Dr. Larsen is fluent in English and Spanish.
With more than 30 years of experience, he is an expert in diagnosing and treating disorders of the digestive system, including the use of advanced endoscopic techniques. He is accepting new patients and referrals.
Conditions & Procedures
Abdominal Pain
Acid Reflux & GERD
Anemia
Barrett's Esophagus
Biliary Disease
Celiac Disease
Cirrhosis
Colon Cancer Screening
Colon Diseases & Polyps
Colorectal (Colon) Cancer
Constipation
Diarrhea
Diverticulitis
Dyspepsia
Dysphagia
Esophageal Disease
Gallbladder Disease
Gallstones
Gastritis
Gastrointestinal Bleeding
H. Pylori
Hemorrhoids
Hepatitis
Indigestion
Irritable Bowel Syndrome
Liver Disease
Pancreatic Disease & Pancreatitis
Peptic Ulcer Disease
Colonoscopy (Screening & Diagnostic)
EGD (Upper Endoscopy)
Endoscopic Mucosal Resection (EMR)
Endoscopic Ultrasound (EUS)
Enteroscopy (Small & Large Bowel)
ERCP & Stents
Esophageal & Colonic Stenting
Esophageal Ablation
Esophageal Dilation
Flexible Sigmoidoscopy
PEG Placement
Office Locations
Primary Location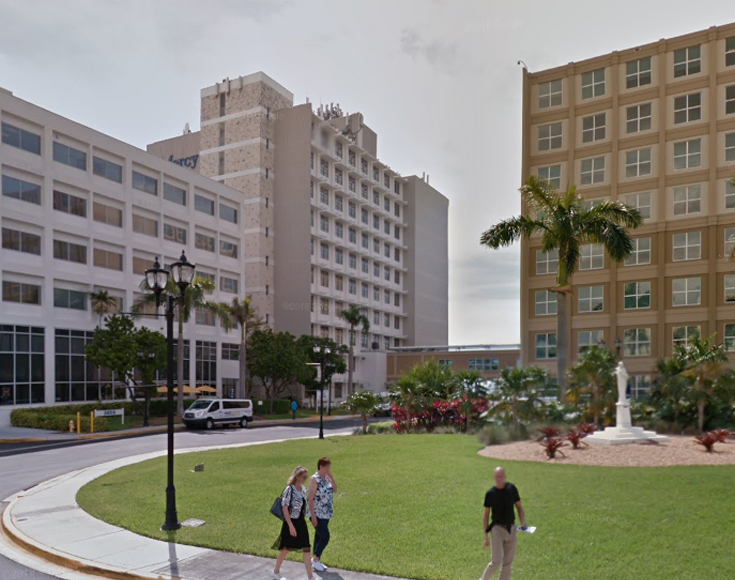 3661 S. Miami Ave.
Suite 907
Miami, FL 33133
Phone: 305-856-7333
Fax: 305-856-8030
Procedure Locations
Having a procedure? It may not always be in the same location where you consulted with your doctor. Check with your doctor to make sure you're headed to the right place.
Education
Medical
Universidad Nacional de la Plata
Residency
Community Private Hospital
Fellowship
University of Miami Jackson Memorial Hospital GME
Professional Highlights
Certifications
Board Certified in Gastroenterology
Board Certified in Internal Medicine
Professional Memberships
American College of Gastroenterology
Florida Society of Gastroenterology