About Tonya L. Adams, MD
Dr. Adams knew at an early age that she wanted to pursue a career in healthcare. In high school she volunteered at a local hospital, and was later accepted into the School of Nursing at the University of Michigan. After three years of Nursing School she decided to shift her interest to Medicine and changed her major to Biology/Pre-Med. She excelled in Medical School, where she was awarded the Pathology Student Fellow Award and spent a year doing clinical research and student teaching.
During her Internal Medicine Residency at The Johns Hopkins University Medical Center, Dr. Adams found the intellectual and technical aspects of Gastroenterology appealing and decided to seek sub-specialty training in the field. She later completed Gastroenterology Fellowship training at Georgetown Medical Center during which time she served as the only trainee member on the American Society of Gastrointestinal Endoscopy (ASGE) Committee on Membership Training.
Dr. Adams joined Gastro Health in 2002 and was named one of the area's "Top Doctors" for Gastroenterology after only five years in clinical practice. She was a previous member of the Washington, D.C. Advisory Board of the Crohn's and Colitis Foundation of America, and served as Chairperson of the ASGE's Diversity Committee. She has presented to members of Congress on the importance of funding support for colorectal cancer screening, moderated sessions at national Gastroenterology meetings and continues to be quite active in community education programs.
Dedicated to helping women understand gender-specific digestive health issues and assisting all patients in preventing colon cancer, Dr. Adams presented "What everyone should know about Colon Cancer Screening" at the 2019 Women's Health & Wellness Summit. Dr. Adams gave a thorough overview of screening guidelines and encourages anyone 45 years of age, or earlier if symptomatic, to get screened for colon cancer.
Conditions & Procedures
Abdominal Pain
Acid Reflux & GERD
Anemia
Barrett's Esophagus
Colitis
Colon Diseases & Polyps
Colorectal (Colon) Cancer
Constipation
Crohn's & Ulcerative Colitis
Diarrhea
Diverticulitis
Dyspepsia
Dysphagia
Fecal Incontinence
Gastritis
Hemorrhoids
Hepatitis
Indigestion
Inflammatory Bowel Disease
Irritable Bowel Syndrome
Peptic Ulcer Disease
Swallowing Disorders
Capsule Endoscopy (Pill Cam)
Colonoscopy (Screening & Diagnostic)
Endoscopic Ultrasound (EUS)
Flexible Sigmoidoscopy
PEG Placement
Office Locations
Primary Location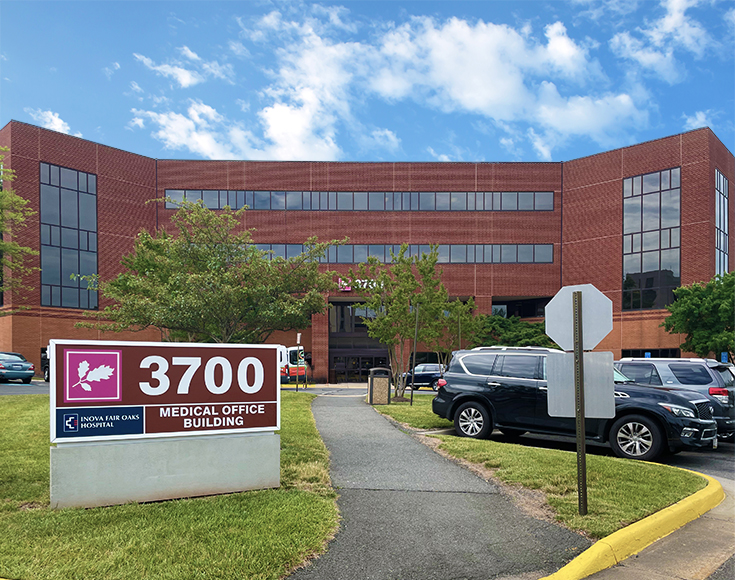 3700 Joseph Siewick Dr.
Suite 308
Fairfax, VA 22033
Phone: 703-698-8960
Fax: 703-828-0961
Additional Locations
3914 Centreville Rd.
Suite 350
Chantilly, VA 20151
Phone: 703-698-8960
Fax: 703-828-0961
3028 Javier Rd.
Suite 300
Fairfax, VA 22031
Phone: 703-698-8960
Fax: 703-828-0961
Procedure Locations
Having a procedure? It may not always be in the same location where you consulted with your doctor. Check with your doctor to make sure you're headed to the right place.
Education
Medical
Toledo College of Medicine and Life Sciences (fka Medical College of Ohio)
Residency
Johns Hopkins University School of Medicine
Fellowship
Georgetown University School of Medicine
Professional Highlights
Clinical Assistant Professor, George Washington University Hospital
Certifications
Board Certified in Gastroenterology
Awards & Recognitions
Arlington Magazine, Top Doctor, 2019, 2021
Castle Connolly, Top Doctor, 2011
Exceptional Women in Medicine, Castle Connolly Top Doctors, 2021
Northern Virginia Magazine, Top Doctor, 2020
Washingtonian Magazine, Top Doctor, 2018, 2019, 2020, 2021
Professional Memberships
Medical Society of Northern Virginia
American Society of Gastrointestinal Endoscopy
American Gastroenterological Association