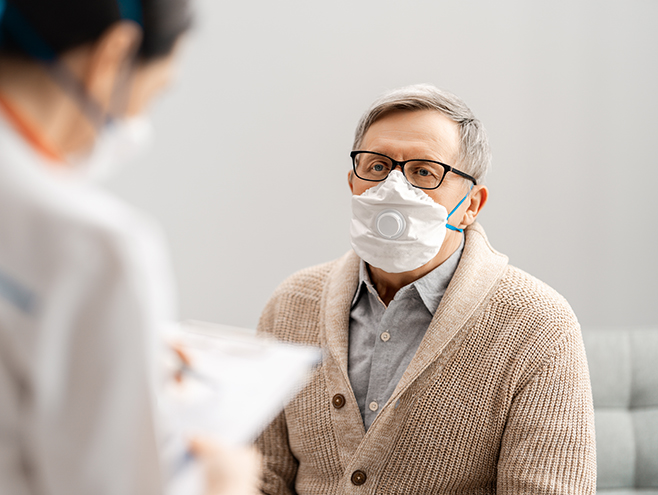 Cancer does not wait for COVID-19. Yet, statistics show that hundreds of thousands of Americans have delayed having their annual cancer screenings in 2020 which has resulted in delays in cancer diagnoses.
When COVID-19 caused much of the population to shelter-in-place in the spring of 2020, many delayed visiting a doctor or having their annual examinations performed. While their reasons for delaying may have varied, many opted for telehealth services in lieu of in-person physician visits. However, routine cancer screenings – such as mammograms, colonoscopies, or lung cancer screenings – cannot be performed via telehealth.
As a result, delays in cancer screenings means that cancers are being detected at later stages once they have spread, or metastasized, throughout the body.
"Cancers can advance rapidly," said Dr. Robert Shaffer, Director of Clinical Research, Gastro Health-Alabama. "Going months without detection and being unable to utilize early intervention tactics can lead to fewer treatment options, worse outcomes, or fatality."
Dramatic Decline in Colorectal Cancer Screenings
Colorectal cancer (cancer that starts in the colon or rectum) is the third most commonly diagnosed cancer and the second leading cause of cancer death in men and women combined in the United States.
"Screening for colon cancer is an important part of routine health care and one of the most successful programs in reducing both the occurrence and death rate of cancer," says Dr. Shaffer.
However, according to UnitedHealth's commercial and Medicare Advantage data of its approximately 32 million members, colorectal cancer screenings took a dramatic decline between March, April, and May of 2020. The average daily colorectal cancer screenings dipped from approximately 4,000 per day to less than 1,000 per day. Biopsies for breast, lung, and colon cancer also fell between 11% and 79% over the same time span. Thus far, in the first eight months of 2020, UnitedHealth counted nearly one million fewer overall cancer screenings when compared with the same period in 2019*.
Quest diagnostic lab test orders for colorectal cancer also plunged from an average of 1,100 per week to approximately 400 – 500 per week in mid-March 2020 and remained at that level through May 2020.
Future Impacts of Delayed Screenings and Diagnoses
The impact of delaying a cancer screening can extend for months as cancers advance through the body. This means that cancers being caught at later stages will result in additional deaths and will also change how we estimate future death rates from diseases. For example, colorectal cancer deaths had declined 53% from 1980 to 2017 among men and 57% from 1969 to 2017 among women. As well, the death rate from colorectal cancer was estimated to be 15.5% prior to COVID. As a result of delayed screenings and diagnoses, that death rate has since increased to 16.6% and may continue to rise, according to Cancer Network.
"In essence, we are in serious danger of slipping backwards in the great strides we have made to decrease cancer death. Prior to COVID-19, the rate of cancer mortality was beginning to decrease by about 25% over the past 25 years," says Dr. Ahmed Hegab, VP of Clinical Affairs, Gastro Health-Virginia "However, less cancer screenings and detection of early stage cancers means we will see increased deaths from cancer over the next ten years or so even with the benefit of our current technological advancements."
"We need to encourage patients to continue their annual and standard cancer screenings, even during these unprecedented times," says Dr. Hegab. "At our facilities, we are committed to the health and safety and our patients, physicians, and staff. We have implemented a variety of safety measures in our clinical settings and continue to follow CDC guidelines."
Early Detection of Colon Cancer is Key to Survival
Early detection of colon cancer is key to increased survival rates.
The American Cancer Society 2018 guidelines for colorectal cancer screening state that average-risk adults aged 45 years and older should undergo regular screening for colon cancer. As a part of the screening process, all positive results on non-colonoscopy screening tests should be followed up with timely colonoscopy.
African Americans and those with a family history of inflammatory bowel disease, ulcerative colitis, Crohn's disease, or other cancers should speak with their doctor regarding screening age and frequency.
*Source: Wall Street Journal – COVID-19 Outbreaks Led to Dangerous Delays in Cancer Diagnoses (10/15/20)