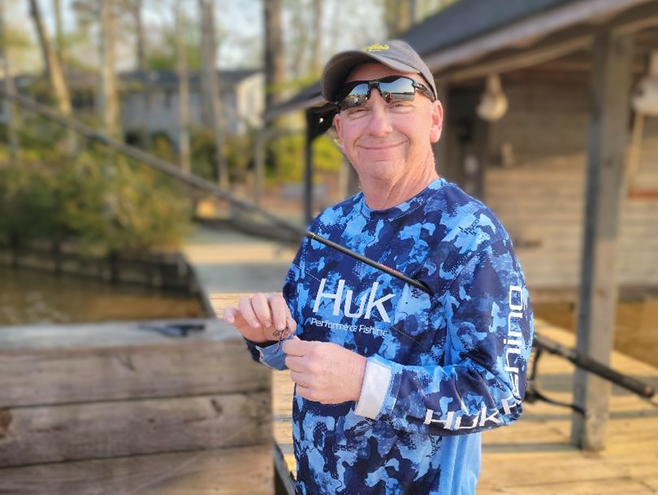 When Billy turned 50, his primary care physician recommended he see a gastroenterologist for a routine screening colonoscopy. He was referred to Gastro Health's Benjamin Young, MD.
"I was immediately impressed with Dr. Young," explains Billy. He was so professional and well-spoken. You can tell he knows his stuff, but he also was able to speak to me on a patient-level."
They discussed some digestive issues Billy was experiencing that were not related to his colonoscopy. Having been diagnosed with GERD several years earlier, Billy was still suffering from severe acid reflux. No matter what he took, neither prescription nor off-the-shelf medications provided any relief.
Certain foods and drinks had become almost intolerable. "Some of my favorite foods like pizza and spaghetti just made me miserable," recalls Billy. "Any amount of alcohol basically caused an eruption of acid."
"Mr. Sherman suffered from a very common problem," explains Dr. Young. "Acid reflux can cause lots of symptoms including heartburn, a sour or bitter taste in the mouth, and stomach pain. Unfortunately, acid reflux is not just a nuisance. After 5 years or more, it can increase the risk for esophageal cancer, especially in men."
It was determined that Billy would undergo both a colonoscopy to screen for colon cancer and an EGD to observe his esophagus. During the procedures, Dr. Young took some samples and told Billy and his wife, Shannon, that he'd follow up with the results.
Billy received the call from Dr. Young just before a Memorial Day holiday weekend. Billy had esophageal cancer. "I never expected to hear the C-word. I was devastated. All I could think about was how this was going to affect my family." Shannon and their two teenage sons, Blake and Peyton, were understandably very worried.
"Cancer is always a scary word and giving that diagnosis is one of the worst parts of my job," says Dr. Young. "It's particularly hard to deliver that information over the phone, as I did with Mr. Sherman. However, for years it has been my approach to call and not wait for an in-person visit because no one wants to delay being treated.
"Esophageal cancer is an especially intimidating cancer. The esophagus is in a challenging place for surgery. Early diagnosis and intervention are key," explains Dr. Young.
Billy's treatment team at Johns Hopkins performed an Ivor Lewis esophagectomy. During the procedure, the surgeon discovered the cancer had spread to Billy's lymph-nodes, which meant chemotherapy and radiation were also necessary.
Almost three years later, Billy now reflects on his difficult journey. "It was brutal, but I got through it. I'm on the other side of it. I'm living. And now I'm cancer-free."
Billy's last appointment with Dr. Young was a happy occasion. "I gave him a man-hug," laughs Billy.
"Mr. Sherman had a tough course with surgery and treatment," explains Dr. Young. "For so much of his recent life, cancer has been the focus. Fortunately, he still has his life, and now that his cancer is behind him, he can live it more abundantly."
Billy feels very lucky to be in such a good place. He's sharing his story in the hopes it might encourage others. "If I had continued to ignore my symptoms, I would not be here today. Be your own health care advocate. Don't delay or avoid going to the doctor."
Today Billy and his family are happily settling back into a routine. He recently bought a bass boat, something he had always dreamed about, and enjoys fishing whenever he can. "Even on the days when I don't catch anything, those are still really good days."
If you have questions or concerns about chronic heartburn (GERD), talk to a gastroenterologist.