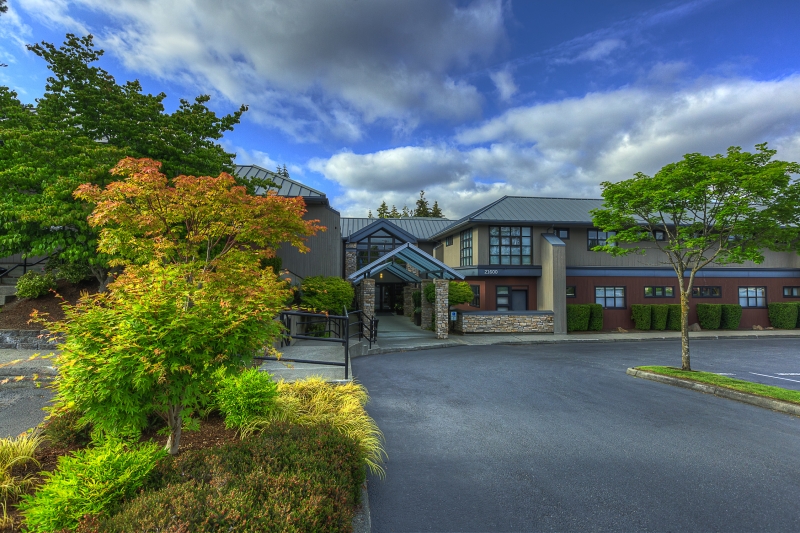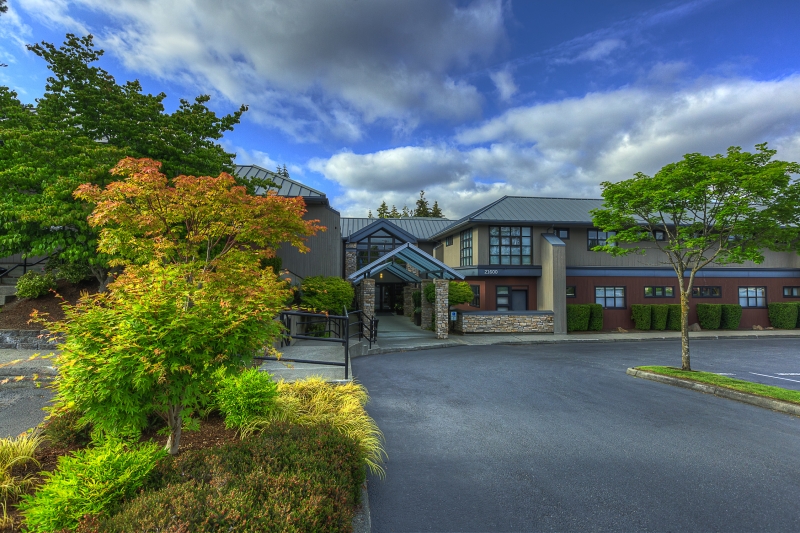 Edmonds Endoscopy Center
Surgery Center
Edmonds Endoscopy Center was named one of America's Best Ambulatory Surgery Centers in 2021 and 2023 by Newsweek.
With quality health care becoming a growing concern for many, Adenoma Detection Rates are one approach to measuring quality in colonoscopy. These rates are meant to show the quality of care provided by determining how well the physician finds and removes growths or potentially precancerous polyps known as adenomas.
Screening colonoscopies where one or more adenomas are detected and removed reduces a patient's possibility of developing colon cancer.
From June 30, 2020, to June 30, 2022, the rates of adenoma precancerous polyp detection (including serrated lesions) for the physicians at Gastro Health - Washington, were 61.20% for men and 48.69% for women. These figures are significantly higher than the national "high quality care" average as designated by The GI Quality Improvement Consortium (national benchmark for men was 50.16% and 38.01% for women).
Procedure Prep
Endoscopy procedures require preparations that are important to ensure a thorough exam. Your health status and current medications will be reviewed to choose the best possible preparation for you. When you have scheduled a date for the procedure, detailed preparation instructions will be given to you.
Your instructions will explain the following:
Medication changes: you will be advised if you need to adjust dosage for blood thinners (Coumadin, aspirin, anti­-inflammatory), diabetic (oral or insulin), and diuretics.
Diet changes: usually there are food restrictions the day before the procedure, some time on clear liquids, and then nothing by mouth for several hours prior to the procedure.
Preparation for Upper Endoscopy: usually includes diet and possible medication adjustments.
Preparation for Colonoscopy: includes diet and possible medication adjustments plus a laxative to thoroughly cleanse the colon.
Transportation: you will be given intravenous sedation for the procedure so you will need to arrange a driver to and from the procedure. You should not drive for at least 12 hours after the procedure.
What to Expect
When you arrive at the endoscopy center, you will be asked to change into a gown. The nurse will ask you questions about your medical history and current medication use. Updating this information will make the procedure safe for you. Please be prepared to review your health history at this time. Bring a list of medications and drug allergies, if necessary. Your blood pressure, pulse rate, and oxygen saturation will be monitored before, during and after the exam. An intravenous (IV) needle will be placed in your hand or arm.
Sedation
Understanding MAC (Monitored Anesthesia Care)
Anesthesia Healthcare Team
Your anesthesia provider will provide anesthesia to meet your specific needs. They are responsible for administering and monitoring the anesthetic medications that will keep you comfortable during your procedure. Anesthesia team members are members of your healthcare team and are highly trained to ensure maximum safety and comfort and will stay with you for the entire procedure.
Monitored Anesthesia Care (M.A.C.)
Emerging best practice in the United States involves performing endoscopic procedures with a sedation entitled Monitored Anesthesia Care or M.A.C. Propofol is usually the medication used, and requires administration by a certified nurse anesthetist (CRNA) or anesthesiologist. This is an ultra-short acting agent administered in an IV. Patients breathe on their own and heart and breathing will be continuously monitored throughout the procedure. Prior to receiving Propofol, it is important to inform your healthcare provider if you have a soy or egg allergy so they can select the best medication for you.
Rarely, and for various reasons, endoscopic procedures are performed using different M.A.C. medications. This form of M.A.C. is sometimes referred to as conscious sedation. The goal of this type of sedation is comfort, not anesthesia. Usually, a combination of Fentanyl (for pain management) and Versed (for relaxation and comfort) are used.
What to expect prior to your procedure
Just prior to your procedure, a member from the anesthesia care team will review with you your medical, medication, and anesthetic history which will help your anesthesia care team choose the anesthetic medication that is safest for you. This is a good time to ask questions or express concerns with your treatment. Any instructions you receive are important and need to be followed. Also, just prior to the procedure, you will have an Intravenous (IV) line placed. This will help to replace fluids in your body throughout the procedure as well as supply anesthetic.
Pre-procedure reminders
It is important to follow all pre-procedure instructions given by your doctor or the anesthesia team. If you have questions please contact your physician's office.
What to expect during your procedure
When receiving any anesthesia your safety is most important. Your highly trained anesthesia provider will use monitoring devices to monitor your heart rate, breathing, blood pressure, and oxygen level. Your anesthesia provider will monitor your consciousness to ensure your comfort during the procedure.
What to expect after your procedure
These medications may affect your memory, so many people do not recall their procedure or talking with the doctor afterwards. Your procedure report and instructions will be written down for you to reference. You may feel drowsy after receiving M.A.C. and should plan to go home and rest after your procedure. You will not be allowed to drive yourself home after the procedure. A trusted adult will need to drive you home (public transportation and alternative ride services are not allowed.) Please do not return to work, sign any legal documents, or operate a vehicle for 12 hours after the procedure. We encourage you to be accompanied for 24 hours after receiving M.A.C.
Driver/Escorts Information
From the time the patient is taken back for their procedure until the time they are ready to go is approximately 1½ to 2 hours. We prefer that you do not leave, but if it is unavoidable, let the receptionist know that you are leaving. Leave a good phone number you can be reached at and make sure you check for voice messages while you are gone. Please check back in with the receptionist when you return. You will have 30 minutes to return to the clinic when you receive a call from us.
If the procedure is scheduled for 3:30 pm or later, we ask that you stay at the facility.
If you are concerned with the wait time being longer than what you were told, please speak with the receptionist.
If the doctor is running behind, we will keep you updated as best we can.
The person that you are escorting home will have received sedation and they will be drowsy, forgetful and even fatigued. Use your best judgment on what you do on the way home. It might be best to just take them home to eat and rest for the remainder of the day. They should not return to work.
Services
Colonoscopy
Upper Endoscopy
Surface lot parking is available outside the facility.
A view inside our facility: