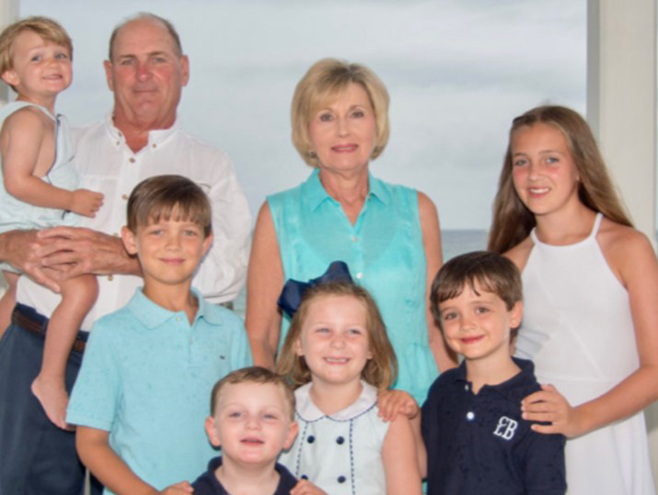 Back in 2003, when Susan Brunson turned 50 years old, she went in for her annual check-up and was told that she was now of age for her first colonoscopy. This preventive screening is an important part of routine health care and one of the most successful ways to reduce both the occurrence and death rate of colon cancer.
Susan had her colonoscopy performed by Gregory Champion, MD, of Gastro Health - Alabama, when she turned 51.
"One of the first things I remember that he asked me was if I wanted to pray with him," says Brunson. "It immediately put me at ease and made me feel like he truly cared about my wellbeing, knowing he must perform many of these procedures each day."
Fortunately for Brunson, her colonoscopy was performed in time for her doctors to spot a malignancy in her colon.
"I was completely caught off guard because I had no symptoms," recalls Brunson. "In retrospect, I do remember that my father had polyps. I just was not aware that I should have checked this out sooner because of my family history."
In 2018, the American Cancer Society Guideline Development Committee updated their guidelines for colon cancer screenings to begin at age 45 for people at average risk as opposed to age 50. The new guidelines also state that people who are at a higher-than-average risk for colon cancer should be screened before the age of 45. People at a higher or increased risk of colon cancer include those with a family history of colon cancer or certain types of polyps. A first-degree family history (a mother, sibling, or father in Brunson's case) can double your risk of acquiring the disease.
The recommended treatment option for Brunson was a resection surgery, which is when a colorectal surgeon removes the part of the colon that has the cancerous cells.
"Within eight days of receiving my colonoscopy results, I was already scheduled for surgery at Brookwood Hospital," recalls Brunson. "Thankfully, it was verified by the pathology team that the cancer had not spread outside of my colon and they were able to remove the cancer altogether. I was lucky I caught it in time."
Lucky, indeed! As a result of this early intervention, Brunson did not have to undergo any additional treatments such as chemotherapy or radiation.
"No follow up treatment was needed, fortunately," says Brunson. "I simply had to have a colonoscopy annually to monitor my condition with Dr. Champion, which then became every three years. Now I have a colonoscopy every five years and have, thankfully, had no other issues since my initial surgery."
During the time that this was taking place, another member of the Brunson family was being heavily affected by Susan's diagnosis – her son, Brian Brunson, MD.
During that time, Brian was in medical school at the University of Alabama at Birmingham, unsure of what he was going to select as his medical specialty.
"When I found out my mother had been diagnosed with colon cancer, I was actually on a surgical rotation," said Dr. Brunson. "I had met Dr. Champion a few years before, and it was very reassuring to talk to him on both a professional and personal level. This experience definitely played a role in my decision to ultimately pursue a career in gastroenterology. I am very thankful my mother was screened, and her cancer caught early, and this motivates me in my practice on a daily basis."
Today, Dr. Brunson and Dr. Champion both work together at Gastro Health - Alabama.
"It's always satisfying for me as a physician when one of my patients achieves such a positive outcome after a colon cancer diagnosis," said Dr. Champion. "In Susan's case, it's rewarding to know that her experience led my colleague, Dr. Brian Brunson, into the field of gastroenterology. It has been a pleasure to work alongside him."
Susan is now a personal advocate to her friends and family members about the importance of colonoscopies.
"It can save your life! People are hesitant because of the preparation for this procedure but they have to get past that," says Brunson. "Not knowing is worse. I now have six grandchildren and I can't imagine having missed out on watching them grow if I had not caught this in time."
Colon cancer is the second most common cause of cancer deaths among men and women combined in the United States after lung cancer, killing more people than breast and prostate cancer; but, also highly preventable.