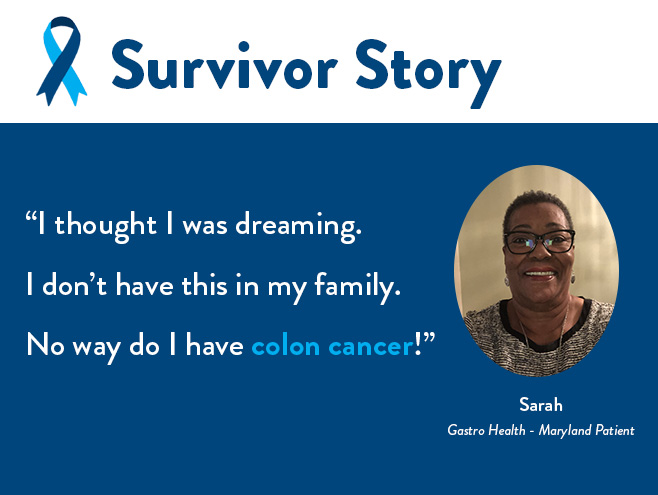 Sarah High's first colonoscopy probably saved her life. At the time, she was past the recommended age of 50 for an initial screening. If she had continued to put off the potentially lifesaving procedure, her story may not have had a happy ending.
As a Black woman, Sarah has an increased risk of colon cancer. According to the American Cancer Society, African Americans are 20% more likely to develop colon cancer, and are 40% more likely to die from colorectal cancer than most other groups.
SARAH HIGH
After some concerning bloodwork results, Sarah's primary care physician urged her to get her first colonoscopy. After some procrastination, she finally went in for the procedure.
"When I awoke from the screening, my husband was there," recalls Sarah. "It was then that I was told they found colon cancer. I thought I was dreaming. I don't have this in my family. No way do I have colon cancer!"
It was
Dr. Missale Solomon
, of Gastro Health - Maryland, who delivered the cancer diagnosis to Sarah.
"When I say the news was shocking to me, I can't emphasize that feeling enough. But Dr. Solomon was awesome," says Sarah. "She coordinated all the next steps for me. I never felt like I was left alone to figure this out."
Sarah recalls she felt fine and didn't notice any symptoms leading up to her diagnosis which can be the case with colon cancer as it is a slow growing cancer.
"I had moved to Florida and had been doing a lot of walking. I dropped 20 pounds, but I thought it was from all the walking I was doing," says Sarah. "Turns out, it was the cancer, but I felt completely fine."
"Colon cancer is completely asymptomatic, until it's not," states Dr. Solomon. "Once the mass is large enough to obstruct your colon or it starts bleeding, that is when we start to see obvious symptoms such as a change in bowel habits, weight loss, bloody bowel movements or anemia. Therefore, the best thing we can do is start screening at the appropriate and recommended age."
Sarah had surgery to remove the cancer from her colon. Fortunately, she did not have to undergo any chemotherapy or radiation afterwards. Additionally, she maintains her routine follow-up care including surveillance colonoscopies as recommended and routine visits with her oncologist and primary care physician.
"I found out after the fact that my mom's sister had colon cancer, so my cousins get screenings regularly," says Sarah. "God showed me favor, so the best advice I can give is do your routine screenings because it can save your life as it saved mine."
COLON CANCER SCREENING GUIDELINES
Colon cancer screenings save lives. That is why it is so important to follow the recommended guidelines for preventive screenings.
"We are doing a good job at reducing the incidence of colon cancer in older individuals, but we are also seeing a rise in early onset colon cancer. Due to this recent concerning trend, it's now recommended that everybody at average risk start screening at age 45," says Dr. Solomon.
The U.S. Preventive Services Task Force (USPSTF) agrees and has recommended that colonoscopy screening age be lowered from 50 to 45. While the rate of colon cancer began to decline for adults 65 and older, the U.S. – and other countries throughout the world – began to experience a sharp rise in the disease in young and middle-aged adults. According to the American Cancer Society, since 1994 there has been an alarming 51 percent increase in colon cancer - 16,000 per year - among those under the age of 50.
While the current guidelines have decreased the recommended age for an initial screening colonoscopy, they also state that people who are at a higher-than-average risk for colon cancer due to family history, a personal history of inflammatory bowel disease, and other factors, should be screened
before
the age of 45.
"Have that conversation with your doctor because colon cancer is a preventable cancer," says. Dr. Solomon. "Any of our patients who have concerns – they are afraid of being sedated, they don't have a ride home, they are uncomfortable with the prep – we have answers and solutions to all those."
In addition to timely screening, there are several lifestyle modifications that appear to reduce the risk of developing colon cancer. They include managing obesity and diabetes, avoiding tobacco use, and limiting excess consumption of alcohol and processed and charred meat. Regular physical activity and a plant based, high fiber diet appear to be protective.
"Ultimately, we aim to drive awareness so that patients are empowered with knowledge on how to take preventive health measures," says Dr. Solomon. "Our goal as health care providers is to work through all concerns and treatment options with our patients together, as a team. A colon cancer diagnosis is not a death sentence and the avoidance of colon cancer altogether with a screening can be lifesaving. It was for Sarah."