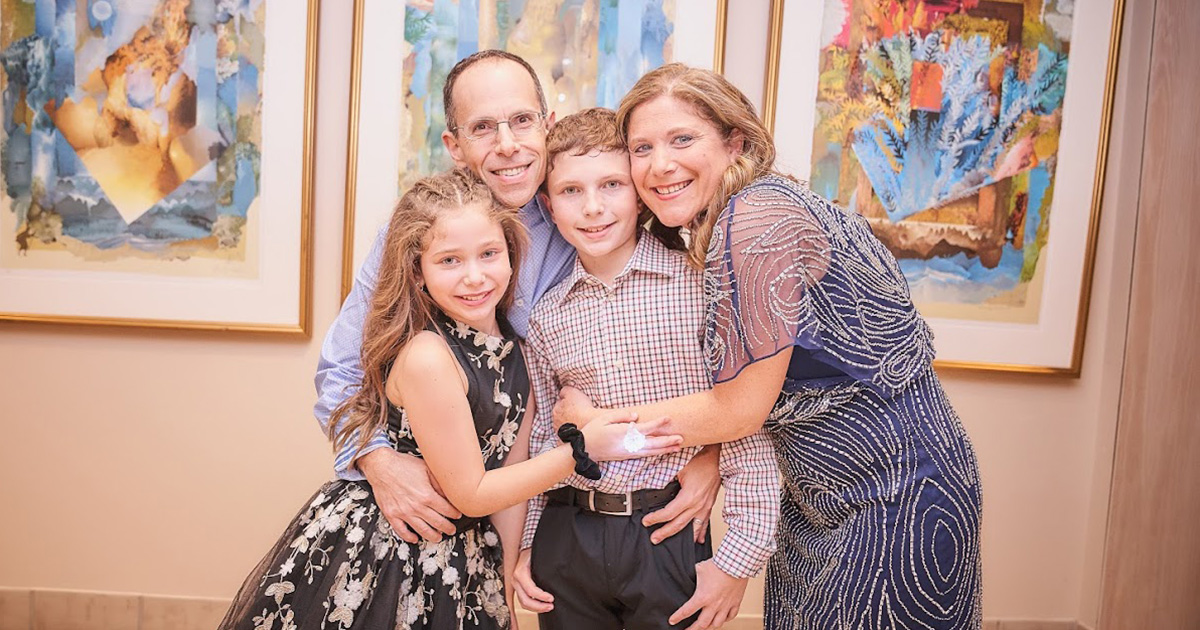 Heather Luxenburg was diagnosed with Crohn's disease when she had just moved away from home and started college in 1993 at the age of 18.
"I couldn't keep food in my system, had significant blood in my stool, and was just so fatigued all the time," recalls Heather. "It got to the point where the only thing I could drink was Snapple pink lemonade."
This was supposed to be a time when Heather was going to parties, making new friends, and living the "college life" away from home. Instead, Heather was making frequent trips to the emergency room getting hooked up to IV bags.
"I was a freshman in college, young, and in a new city," says Heather. "I didn't know how to advocate for myself, and I wasn't sharing this news with my parents as much as I should have been."
Thankfully, Heather's college roommate took it upon herself to call Heather's mom and tell her what was really going on. Heather's mom arrived at the campus and proceeded to take charge of Heather's heath and getting the diagnosis that defined the root of the problem.
"Once I found out I had Crohn's, I was put on a slew of oral medications. They typically worked for about 10 to 12 months before they no longer were effective and I would have to change medications constantly," recalls Heather. "This was typical in the Crohn's world back then."
That is until a new treatment that received FDA approval in 1998 would change Heather's life forever.
Remicade is an infusion treatment that was the first anti-TNF-alpha treatment approved in the United States and the first TNF inhibitor to be approved in three different therapeutic areas: gastroenterology, rheumatology, and dermatology. It is now widely used in patients with Crohn's disease, ulcerative colitis, pediatric Crohn's disease, psoriasis, rheumatoid arthritis, and other conditions. Today, it is used by more than 1.5 million patients worldwide.
"Fortunately, I had found Dr. Michael Garone about four years later, just after Remicade came out. At that time, Dr. Garone hired a nurse to start offering the infusions in his office. It was just one nurse and one chair back then," recalls Heather. "I've been on Remicade ever since – for the last 20 years. I actually joke with Dr. Garone and tell him he has been my longest long-term relationship. I've been with him longer than I've been with my husband!"
Dr. Garone was part of the original advisory panels for Remicade. Heather is one of his patients who has been under Remicade treatment the longest.
"She's done tremendously well because she was really sick when I first met her," recalls Dr. Garone. "Had Remicade not been available to her, she might have ended up needing a total colectomy. She would have survived but she would have lost her colon."
For the last 20 years, Heather has received her treatment of Remicade every 8 weeks and has never missed a dose. When Heather reached the age where she wanted to consider having children, Dr. Garone put her in touch with Dr. Sunanda Kane, a researcher who was studying the use of Remicade during pregnancy and while breastfeeding. The two of them gave Heather the information and confidence to work through her pregnancy while under treatment and the protocol of what to do after delivery.
"Thanks to the both of them, I've had two successful pregnancies," says Heather. "They were both instrumental in giving us information about the ongoing research to make our own educated decisions," says Heather.
Helping to advance the science of Remicade, Heather also enrolled her children in a clinical trial with Dr. Kane where they both donated blood at birth and are followed for the first ten years of their life, with their immune systems monitored. This will help measure any potential long-term effects of children born on Remicade.
"I am happy to help contribute to the bank of knowledge about this drug," says Heather, whose children are now 15 and 12. Both kids are healthy and doing great.
Before being on Remicade, Heather recalls taking upwards of 20 pills a day, four to five times a day.
"Remicade has been my miracle drug," says Heather. "I am at a point in my life now where I have had Crohn's in my life longer than I haven't had it."
Though Heather has since moved to Maryland, she continues to drive to Virginia just to see Dr. Garone.
And after practicing medicine for 35 years, Dr. Garone has no plans to stop helping patients like Heather.
"The highlight of my practice is our infusion center," boasts Dr. Garone. "It's there where I have watched patients, like Heather, truly recover and be able to live their lives to the best of their ability."