Specialty Services
FibroScan®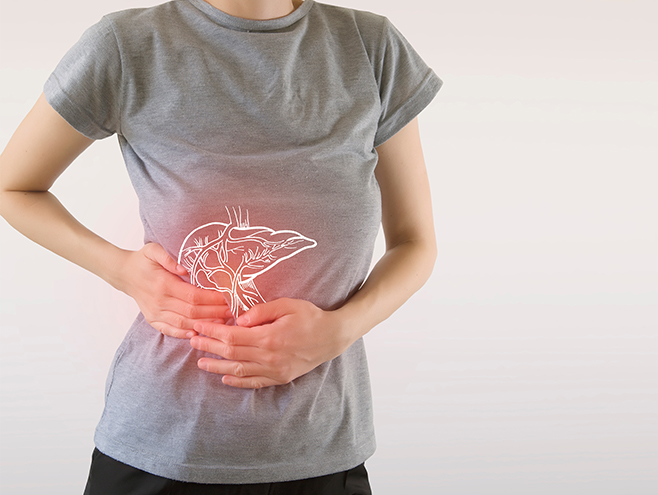 Gastro Health offers complete care of the digestive system. That means when a patient with gastrointestinal concerns makes an appointment at Gastro Health, everything from the evaluation totreatment, including diagnostic imaging, happens under the care of a Gastro Health medical professional.
At our on-site Diagnostic Studies Center, we provide our patients with the latest technology in diagnostic imaging, including FibroScan®, a non-invasive test used to determine liver health.
How does FibroScan® work?
FibroScan® uses a technology called Vibration Controlled Transient Elastography (VCTE™) that assesses liver stiffness by capturing and calculating the speed of a shear wave as it travels through the liver. This detection of stiffness may be used as an aid to clinical management of liver disease.
You lie on your back with your right arm raised behind your head. The operator applies a water-based gel to the skin and positions the probe adjacent to your liver. The operator then scans your liver to capture ten meaningful measurements made at the same location. The result is delivered at the end of the examination as a number in "kilopascals" (kPa).
Is FibroScan® painful?
No, FibroScan® is completely painless. During the scan, you will only feel a slight vibration on the skin at the tip of the probe. This quick test is painless, non-invasive, and can be repeated safely.
Why use FibroScan®?
Your liver serves as the body's filter, pumping more than 1.5 quartz of blood through it every minute, removing toxins and waste products from the bloodstream as it goes. The liver stores vital nutrients and also manages cholesterol, hormones, and sugar.
It's important to know when your liver is in trouble. A FibroScan® examination can help you and your healthcare provider understand your liver status, and when needed, create a care plan to support this vital organ.
Where can I get FibroScan®?
The locations below offer FibroScan®.
Delray
4675 Linton Blvd., Suite 202
Delray Beach, FL 33445
Galloway
9408 SW 87 Ave., Suite 200
Miami, FL 3317
Hollywood
4700 Sheridan St., Suite F
Hollywood, FL 33021
Jupiter Medical Center Campus
1002 S. Old Dixie Hwy., Suite 201
Jupiter, FL 33458
North Broward
3001 Coral Hills Dr., Suite 380
Coral Springs, FL 33065
Acton
45B Discovery Way
Acton, MA 01720
Chelmsford
4 Meeting House Rd., Suite 6-8
Chelmsford, MA 01824
Charlottesville
1139 E. High St., Suite 203
Charlottesville, VA 22902
Learn more about FibroScan®
How the COVID "Lifestyle" May Affect Liver Health
For many people, the pandemic "lifestyle" has led to increased alcohol consumption, higher calorie diets, and decreased physical activity. These types of behaviors can lead to Alcoholic Fatty Liver Disease (AFLD) and Nonalcoholic Fatty Liver Disease (NAFLD).
Read Article