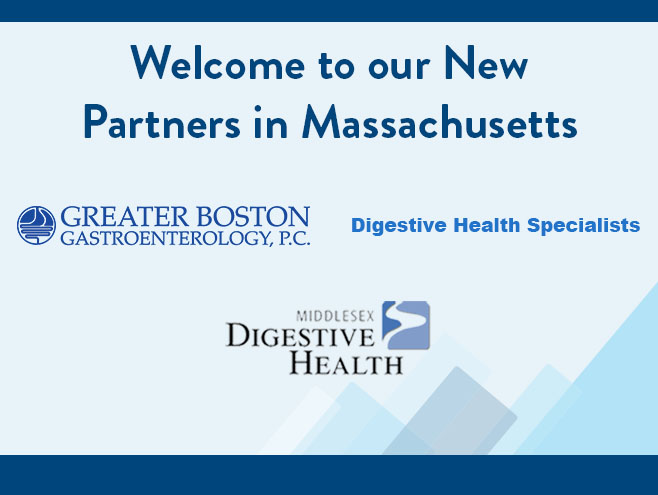 Gastro Health, a national leading medical group specializing in digestive and liver health, has partnered with three gastroenterology practices in Massachusetts making its first foray into the state, as well as the Northeast, and marking its presence in now seven states across the country.
Gastro Health has partnered with
Greater Boston Gastroenterology, P.C.
,
Digestive Health Specialists, P.C.
, and
Middlesex Gastroenterology, P.C.
Together they will form the first members of Gastro Health - Massachusetts with a combined 21 physicians and 10 advanced practice practitioners (APP) across five office locations in cities throughout Massachusetts which include Framingham, Marlborough, Waltham, Chelmsford, and Acton.
Patients will be able to continue to access high-quality gastroenterology services such as colon cancer screenings, endoscopy, and treatment for a host of conditions including but not limited to liver disease, IBS, GI bleeding, gallbladder and bile duct problems, Crohn's and colitis, pancreatitis, and hemorrhoid banding. In addition, patients will also be able to access infusion and imaging services, pathology, weight-loss and nutrition services, and the ability to participate in clinical research, offering patients access to the latest treatments and medications not yet available to the general public.
"We are very excited to work with these three high-quality GI practices and now have a presence in New England," said Gastro Health CEO Joseph Garcia. "Our partnership with these practices will serve as an important base as we continue to expand our presence in and around the area."
"Joining with a proven national leader like Gastro Health is the first step in continuing to build out a stellar GI group and putting the right resources together for our patients and the communities we serve," said George Dickstein, MD, FASGE, AGAF, of Greater Boston Gastroenterology. "It is an honor to join with such compassionate and dedicated colleagues to provide a more comprehensive offering of gastrointestinal care in Massachusetts."
This latest partnership with Gastro Health is part of a continued national growth and expansion period in the single-specialty gastroenterology sector over the last five years. Gastro Health has a presence in seven states – Florida, Alabama, Washington, Virginia, Ohio, Maryland, and now Massachusetts – with 360 physicians and 145 locations consisting of medical office practices, infusion centers, imaging services, and specialty pharmacies. Additionally, Gastro Health owns and operates endoscopy centers in five of the seven states and operates pathology and anesthesia services.
Advisors
McGuireWoods served as legal advisor to Gastro Health and Coker Capital served as the exclusive financial advisor to Greater Boston Gastroenterology, P.C., Digestive Health Specialists, P.C., and Middlesex Gastroenterology, P.C. Terms of the transaction were not disclosed.