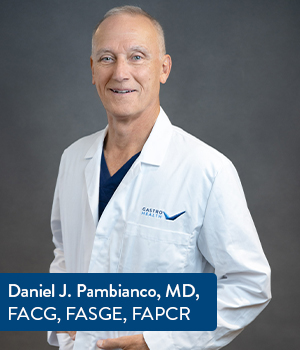 Daniel J. Pambianco, MD, FACG, FASGE, FAPCR was elected by the membership as the 2022-2023 President of the American College of Gastroenterology (ACG), a national medical organization representing more than 17,000 clinical gastroenterologists and other specialists in digestive diseases.
Dr. Pambianco is a practicing gastroenterologist and managing partner of Gastro Health in
Charlottesville
. He is also the founder of Charlottesville Medical Research, a local network of community-based physicians in private practice who conduct clinical research studies in the central Virginia area.
Dr. Pambianco officially takes his position as President during the College's Annual Scientific Meeting and Postgraduate Course, held this week in Charlotte, NC. In this position, he will lead the Board of Trustees as they oversee and guide the work of the College in alignment with ACG's mission and vision.
Dr. Pambianco has been active in organizational leadership roles at the state, national, and international levels. He currently serves on the executive board of the Virginia Gastroenterology Society, and served as president from 2001 to 2002. He was a member of the Medicare Carrier Advisory Committee for the Commonwealth of Virginia from 2001 to 2010.
Dr. Pambianco earned his medical degree at the American University of the Caribbean School of Medicine in the British West Indies. He completed his residency in internal medicine at Robert Packer Hospital/Guthrie Clinic in Sayre, Pennsylvania, and his fellowship in gastroenterology at the University of Virginia Health Services Center at Charlottesville. He is a former Assistant Professor of Medicine and Director of Endoscopy Services at the University of Virginia.
"My goal as president is to broaden our educational support for our members during some the most challenging times for the practice of medicine in general, and particularly GI," said Dr. Pambianco. "I also hope to bring a greater focus on achieving and maintaining high performance private practice as a continued vocation in these challenging times."
For more information, see the American College of Gastroenterology's full media statement on Dr. Pambianco.