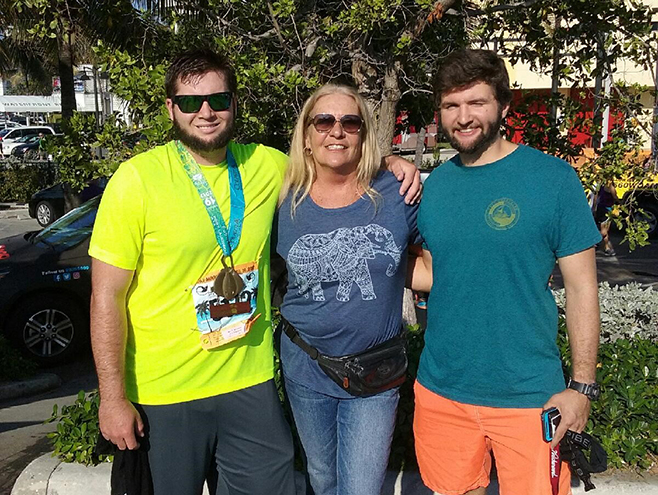 If Debra Tucker had waited any longer before she called 911, she might not be alive today.
It was supposed to be a nice evening out to dinner back in April when suddenly, Debra began to choke and cough on a piece of shrimp. Not thinking much of it, she wrapped up her food to go and went home. At 3:00 a.m., however, she began to vomit blood, again and again. It was at this point she realized her coughing and choking earlier had not been due to the shrimp. At that point, she did not hesitate to call 911 and was rushed to the hospital.
While in the hospital, she continued to vomit blood to the point where her blood pressure began to drop. "They placed me upside down in the bed with my feet elevated and it's the last thing I remember until I came to, and all the doctors were around me," recalls Debra.
"Debra wound up having a rare massive upper G.I. bleed from a tear in her esophagus," recalls Adam Lessne, MD, gastroenterologist in Cooper City, FL, who was on call that night and ultimately performed two endoscopies that saved Debra's life.
"She ultimately needed 11 units of blood which is a significant amount," says Dr. Lessne. "At one point, a surgeon was called in to consider removing her entire esophagus if we could not control the bleeding endoscopically. But fortunately, the bleeding stopped with endoscopic intervention."
Debra was hospitalized for 11 days, nine of which were in the intensive care unit (ICU). "Dr. Lessne was the expert that this situation called for," says Debra. "He saved my life. I put my full trust in him, and he made me feel that he going to take care of me. And he did."
Thinking back, Debra realized the signs leading up to this event were there, but it was not until Dr. Lessne began to ask her a series of questions, such as whether she had dark stools, that the complete story emerged. "I then realized my stools had been dark but had originally thought it was something I ate. My daughter also pointed out I had been sleeping a lot, more than usual. It turns out I had been bleeding internally for close to a month," recalls Debra.
Debra is on still on her road to recovery but is doing very well. She takes medication twice a day to heal the lining of her esophagus in addition to starting a soft food diet. "I can start eating regular foods now and can swallow better with the clamps in there," says Debra. "I had a burger the other day and it was absolutely delicious!"
It was a happy ending for Debra, but a cautionary tale, nonetheless, says Dr. Lessne. "Debra's case highlights the importance of immediate evaluation if one any evidence of bleeding, including black tarry stools," says Dr. Lessne. "The fact that she got to the hospital in time is what saved her life."
Debra, however, thinks she was in the right hands at the right time. "I know calling 911 was the right thing to do. But had it not been for the skilled hands and quick thinking of Dr. Lessne, I would not have made it. He is the real reason I am here today."
If you have any concerning symptoms and would like to speak to a specialist, find a doctor convenient to you.