With locations across the country in Alabama, Florida, Maryland, Ohio, Virginia, and Washington and with over 300 physicians, Gastro Health is one of the nation's fastest-growing gastroenterology groups. We hope to continue our growth by partnering with like-minded physicians who aim to provide their communities with the best possible care available.
If you are an independent practitioner looking to get hired within an existing Gastro Health group, please visit our Physician and Provider Employment page.
What does a Gastro Health Physician Partnership look like?
Gastro Health provides our physicians with large-scale management capabilities such as a greater network for payor negotiations, improvements to technology, revenue cycle monitoring, and more. We also ensure our physicians the clinical autonomy to deliver quality medical and preventive care to patients. This structure allows both Gastro Health and our physicians to focus on what really matters: providing patients with access to best-in-class clinicians and an exceptional patient experience.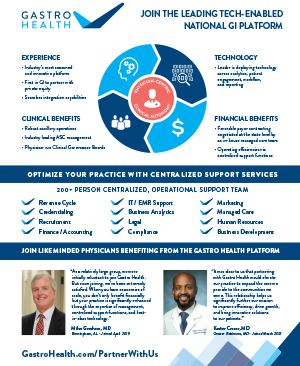 How does the Physician Partnership process work?
After an initial conversation, the practice and Gastro Health will sign a non-disclosure agreement.
The Gastro Health team will gather preliminary information about the practice.
The Gastro Health team will then present a formal proposal in the form of a letter of intent.
The practice and Gastro Health will sign the letter of intent to partner.
Gastro Health will then perform due diligence on the practice.
Gastro Health and the practice finalize the partnership at closing.

Meet Our Team
---
---
---
---
---