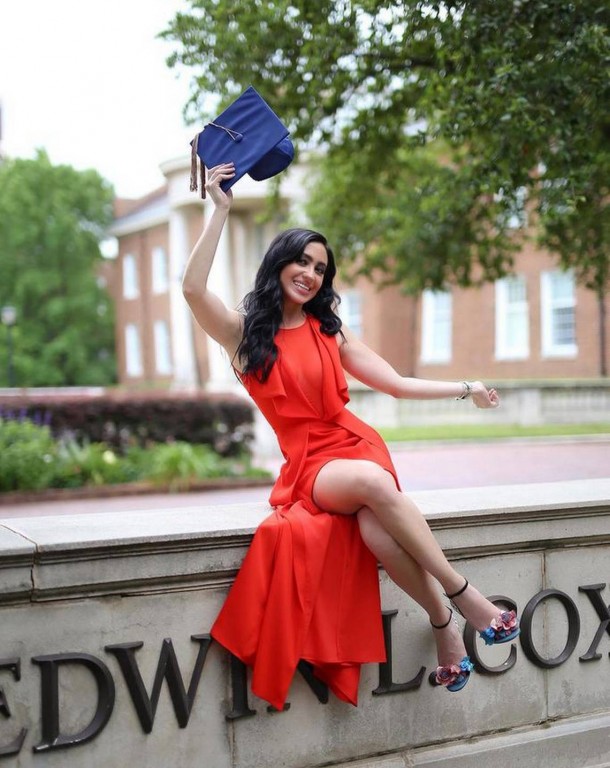 At age 16, Esther Hirsch wasn't developing as fast as other girls her age.
"I was 90 pounds," Hirsch said. "I was skin and bones."
At age 12, she was diagnosed with a growth deficiency and prescribed medication. But her symptoms persisted. She had a loss of appetite, couldn't gain weight and suffered from diarrhea.
Originally from Honduras, Hirsch was previously diagnosed with gastritis, stress and bulimia. She began visiting medical centers in Houston and Miami to seek treatment.
"It was tiring, emotionally and physically," Hirsch said. "I was missing school going to the hospital. I was missing out on things girls my age do. It was a tough journey."
Her journey became easier after Dr. Jesse Reeves-Garcia, a pediatric gastroenterologist at Gastro Health Pediatrics, diagnosed her with Crohn's disease, an inflammatory bowel disease characterized by symptoms that include abdominal pain, weight loss and diarrhea.
An estimated 1.3 percent or 3 million U.S. adults reported being diagnosed with Crohn's or ulcerative colitis in 2015, a large increase from 1999 when 0.9 percent or 2 million adults were diagnosed, according to the Centers for Disease Control and Prevention.
Most people are diagnosed after age 15. IBD can be diagnosed at a younger age, although it is rare in children younger than 8, according to the Crohn's & Colitis Foundation.
After an initial steroid treatment, Hirsch was placed on Remicade, a biological therapy used to treat moderate to severe Crohn's in children and adults. Administered through infusion, Hirsch undergoes the outpatient procedure every 8-10 weeks.
"A common form of treatment is biological therapy, which stops inflammation before it starts destroying tissue," Reeves-Garcia said. "The gut is a tube and inflammation is just like rust in a pipe. It can cause leaks, causing infectious pockets of pus in the body and leaking into the abdomen.''
Hirsch saw immediate results. Her symptoms went into remission. She gained an appetite and 20 pounds in one month.
"I was finally happy with my weight," Hirsch said. "The cook ran away from me because she said I was going to eat her next."
She also began modeling, which she continued until college, and was featured on the cover of a publication in Honduras.
"I was looking and feeling better," Hirsch said. "I no longer looked sick and unhealthy."
With sustained remission, children are able to participate in any activities they choose, said Dr. Alisa Muniz Crim, pediatric gastroenterologist and medical director of the Inflammatory Bowel Disease Center at Nicklaus Children's Hospital.
"Most patients are able to go to work, school and other activities," Muniz Crim said. "They can live a normal life with medical management."
The causes of Crohn's disease are not well understood, according to the Crohn's & Colitis Foundation. Diet and stress may aggravate the condition, but do not cause the disease.
Most patients have minimal diet modifications such as avoiding fast and processed foods, Muniz Crim said. Some patients have stricter diet restrictions such as liquid or specific carb diets. Diet modifications can help reduce inflammation.
Hirsch said she avoids things that upset her stomach like alcohol, greens, granola, fried foods and coffee.
Hereditary, genetics and/or environmental factors contribute to the development of the disease, according to the Crohn's & Colitis Foundation. Studies have shown that 5 to 20 percent of affected individuals have a first-degree relative such as a parent, child or sibling with one of the diseases. The risk is greater for Crohn's than ulcerative colitis.
Physicians should be aware of family history so they can watch for symptoms, including short stature, abdominal pain and weight loss. Children should be examined yearly by a pediatrician, said Dr. Edgardo D. Rivera-Rivera, pediatric gastroenterology expert with UHealth — the University of Miami Health System.
"We help them go through the hurdles," Rivera-Rivera said. "We teach them how to fish so they can sustain themselves and give them the resources to be successful."
Now 25, Hirsch is treated by an adult gastroenterologist in Dallas, where she has lived for the past seven years. In May, she graduated with a master's of science in management from Southern Methodist University.
She started a mentorship program at the Crohn's & Colitis Foundation of America, and she runs four or five times weekly. She has run in three half marathons in Austin, Woodlands and Dallas.
"There have been ups and downs along the way, but since I was 16, I've been living a healthy life," Hirsch said.
Although Reeves-Garcia is no longer her physician, they still keep in touch through texts and Facebook.
"He is more than a doctor," Hirsch said. "He is a father figure."
Reeves-Garcia returns her sentiment.
"I watched a skinny little girl turn into a beautiful, articulate model," Reeves-Garcia said.
Meanwhile, Hirsch is pleasantly surprised by an ongoing problem.
"Can you believe I have to watch what I eat?" Hirsch said.