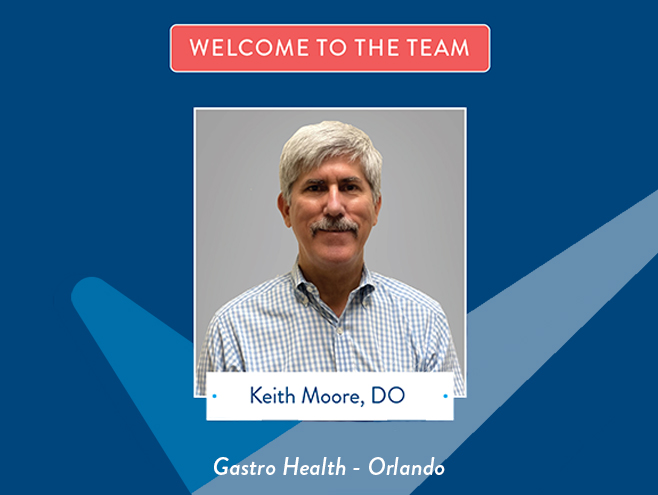 Gastro Health, a national leading medical group specializing in digestive and liver health, has finalized a partnership with Keith Moore, DO, to join Gastro Health in Orlando.
Dr. Keith Moore is board certified in Internal Medicine and Gastroenterology by the American Osteopathic Board of Internal Medicine. He is a member of the American Osteopathic Association, Florida Osteopathic Medical Association and Florida Gastroenterologic Society. Additionally, he has previously served as the Chief of Staff at Florida Hospital East Orlando.
"We are excited to partner with Dr. Moore and expand our network in the Orlando market," said Gastro Health CEO Joseph Garcia. "His approach to patient care fits well within our mission and complements our team nicely."
"I was proactively looking for options for the future of my practice and saw the value in partnering with a proven leader in the GI space," said Keith Moore, DO. "This partnership provides me access to technology and support tools to continuously improve my patients' healthcare experience."
This latest acquisition by Gastro Health is part of a continued national growth and expansion period in the single-specialty gastroenterology sector over the last several years. Gastro Health has a presence in seven states – Florida, Alabama, Washington, Virginia, Ohio, Maryland, and Massachusetts – with over 370 physicians and 145 locations consisting of medical office practices, infusion centers, imaging services, and a specialty pharmacy. Additionally, Gastro Health owns and operates endoscopy centers in five of the seven states and operates pathology and anesthesia services.