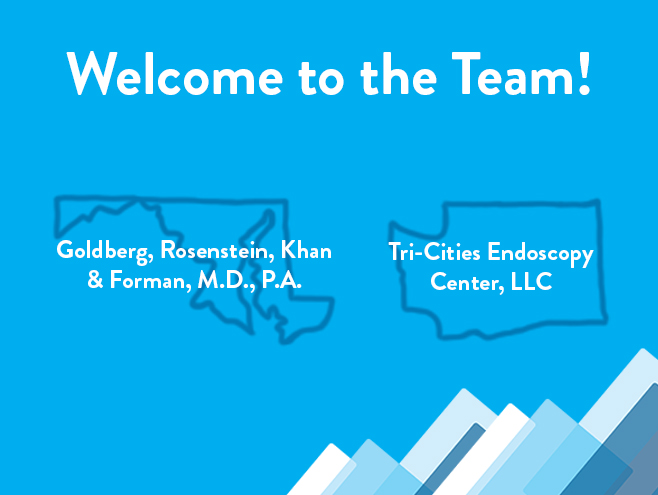 Gastro Health, a national leading medical group specializing in digestive and liver health, has partnered with two practices in Maryland and Washington where Gastro Health already has an existing presence.
Goldberg, Rosenstein, Khan & Forman, M.D., P.A., located in Towson, Maryland, will become the third Gastro Health practice in the state bringing its presence to four office locations with a combined 27 providers.
"With a combined 50+ years of experience in the GI sector, we are proud to be able to provide our patients with the highest quality care," said Andrew Rosenstein, MD. "Becoming part of Gastro Health allows us to not only continue providing the great care our patients have come to expect, but the ability to expand on that care through the support and resources that come with being part of a larger network."
Tri-Cities Endoscopy Center, LLC, located in Kennewick, Washington will bring Gastro Health's presence in the Pacific Northwest region to five offices with a combined 25 providers. Sittilerk Trikalsaransukh, MD, of Tri-Cities Endoscopy Center has more than 29 years of experience in the medical field and is affiliated with Trios Hospital.
"Being aligned with Gastro Health's core values made this an easy transition," said Dr. Trikalsaransukh. "We look forward to growing within the Gastro Health team while remaining dedicated to our patients."
Patients from both practices will be able to continue to access high-quality gastroenterology services such as colon cancer screenings, endoscopy, and treatment for a host of gastrointestinal and liver conditions.
"At Gastro Health, we are committed to simplifying the challenges of running a successful practice so that physicians can focus on what they do best, care for patients," said Gastro Health CEO Joseph Garcia. "Partnering with both Goldberg, Rosenstein, Khan & Forman, M.D., P.A. and Tri-Cities Endoscopy Center supports our commitment to excellence and innovation in patient care and we are very excited about what the future holds."
These latest acquisitions from Gastro Health are part of a continued national growth and expansion period in the single-specialty gastroenterology sector over the last five years. Gastro Health has a presence in seven states – Florida, Alabama, Washington, Virginia, Ohio, Maryland, and Massachusetts – with 365 physicians and over 145 locations consisting of medical office practices, infusion centers, imaging services, and specialty pharmacies. Additionally, Gastro Health owns and operates endoscopy centers in five of the seven states and operates pathology and anesthesia services.