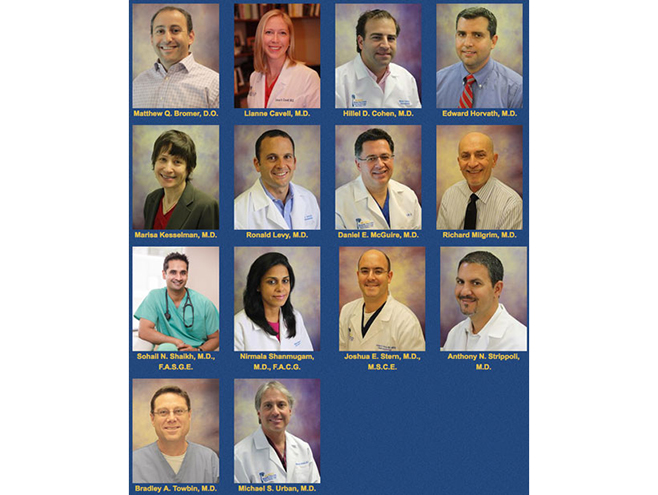 Acquisition Will Add 15 Physicians and Seven Offices in Palm Beach County
(MIAMI, APRIL 24, 2018) — Gastro Health, LLC ("Gastro Health"), one of the nation's fastest-growing gastroenterology groups, has entered into a definitive agreement to acquire South Florida Gastroenterology Associates, P.A. ("SFGA"), a premier 15-physician practice specializing in state-of-the-art diagnostic and therapeutic digestive health services. Gastro Health will more than double its physical footprint in Palm Beach County with the addition of the group, establishing new locations in Boynton Beach, Jupiter, and Lake Worth and adding to its current locations in Boca Raton, Delray Beach, and Wellington. The announcement marks another significant milestone in Gastro Health's growth trajectory and its commitment to expansion in the region and nationally. With this acquisition, Gastro Health's physician headcount will grow to 110 physicians across 46 offices in Florida.
"Patient needs continue to drive our growth and we are thrilled to partner with SFGA. SFGA is a quality group of providers that truly cares about the patient experience," said Gastro Health CEO, Joseph M. Garcia. "Together, we will continue to fortify our position in Florida."
SFGA physicians and allied health professionals bring significant experience in gastroenterology and hepatology, providing management and treatment of a wide range of diseases and disorders. With offices throughout Palm Beach County and more than 20 years of practice in the region, the addition of their practices will:
Reinforce Gastro Health's position as one of the fastest-growing and most prestigious medical groups in Florida that will include 110 physicians across 46 offices
Expand Gastro Health's presence throughout Florida, including two new ambulatory surgical center facilities in Palm Beach County
Build on Gastro Health's comprehensive services for patients in need of high-quality care and procedures such as colonoscopies and endoscopies
Provide added convenience for patients across Palm Beach County with more opportunities to access expert physicians close to home
The professionals who will join from SFGA include 14 gastroenterologists, one anesthesiologist, three nurse practitioners, one physician's assistant and one certified registered nurse anesthetist. Among them are the current and former Chairmen of Medicine at Bethesda Hospital, former Chief of the Division of Gastroenterology at JFK Medical Center and a former Chief of Internal Medicine, Chief of Gastroenterology, and Chairman of the Governing Board at Delray Medical Center.
"We at South Florida Gastroenterology Associates are very excited to be partnering with Gastro Health, a leader in the gastroenterology industry. We will now be able to offer a wider spectrum of services in more convenient locations to our patients. Therefore, our patients will be the primary beneficiaries of this partnership," said Dr. Hillel D. Cohen.
This expansion is part of Gastro Health's growth strategy to meet increasing demand in markets across Florida and nationally. The SFGA addition builds on the growth Gastro Health experienced in 2017. With this acquisition, Gastro Health's team will grow to more than 185 gastroenterologists and health professionals. In addition to these expansions, Gastro Health actively recruits and attracts physicians from across the United States who are experts in the field of gastroenterology.
"The entire SFGA family is eager and excited about uniting with Gastro Health, a premier group in the field of gastroenterology. Their mission, like ours, is to provide outstanding medical care and an exceptional healthcare experience. " said Dr. Joshua Stern.
About Gastro Health
Gastro Health is one of the fastest-growing gastroenterology groups in the United States. With a focus on patient experience, its nearly 100 board-certified physicians collaborate with allied health professionals to deliver exceptional gastrointestinal care across an integrated network of 30+ locations. Gastro Health's expert care teams utilize technology, clinical expertise and compassionate care to provide a personalized approach to digestive health and overall wellness. Learn more at gastrohealth.com.
Media Contact
Frank Manes, Vice President of Business Development
305-351-8151