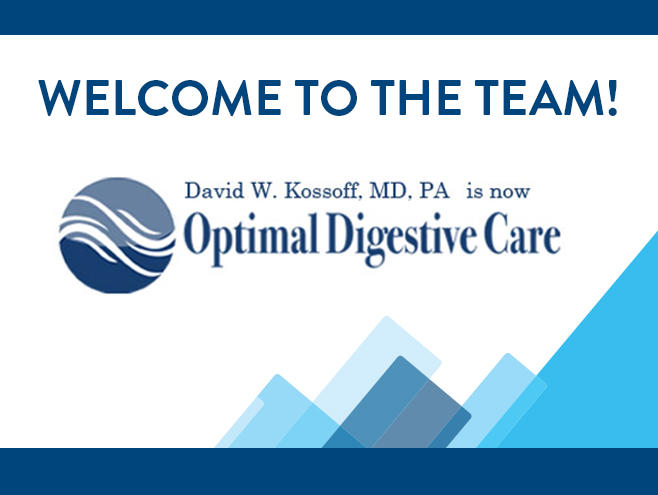 Gastro Health, a national leading medical group specializing in digestive and liver health, has acquired
Optimal Digestive Care
in Frederick, Maryland. The deal closed on December 31 and marks the company's first tuck-in acquisition in Maryland that will merge the practice in Gastro Health's existing capabilities and resources.
Optimal Digestive Care is led by David W. Kossoff, MD, who attended medical school at the University of Maryland School of Medicine. He was also fellowship-trained in gastroenterology and advanced therapeutic endoscopy at Allegheny University of the Health Sciences in Pittsburgh, PA. Today he is a member of the American Society for Gastrointestinal Endoscopy and the American College of Gastroenterology.
"Our practice has always been proud to offer personal attention to our patients coupled with friendly, compassionate care," says Dr. Kossoff. "Joining Gastro Health will allow us to grow and offer the same level of excellent care to the expanding needs of our community."
Optimal Digestive Care specializes in adult disease of the digestive tract including the colon, esophagus, stomach, small intestine, liver, pancreas, and gallbladder.
"Adding Optimal Digestive Care to our existing presence in Maryland was a wonderful way to end 2021," said Gastro Health CEO Joseph Garcia. "As we start a new year, we are excited to support Dr. Kossoff and look forward to continued growth in his practice and Maryland, overall, in 2022."
This latest acquisition by Gastro Health is part of a continued national growth and expansion period in the single-specialty gastroenterology sector over the last three years. Gastro Health has a presence in six states – Florida, Alabama, Washington, Virginia, Ohio, and Maryland – with over 140 locations and 315 physicians consisting of medical office practices, infusion centers, imaging services, and a specialty pharmacy. Additionally, Gastro Health owns and operates endoscopy centers in five of the six states and operates pathology and anesthesia services.