About Nicholas M. Szary, MD, MS
Dr. Nicholas M. Szary is now accepting new patients. Dr. Szary is a Board-Certified Gastroenterologist and Advanced Endoscopist with interest in all aspects of gastroenterology and a special focus on solving complex bowel disorders and diseases of the liver and pancreas. In addition to outpatient clinical care, Dr. Szary also offers gastroenterology specialty services at Inova Fairfax and Inova Fair Oaks Hospitals.
Dr. Szary received medical training at the University of Missouri and Georgetown University where he devoted an extra year performing advanced endoscopic procedures to help identify and treat esophageal cancer, studying pancreatic and liver (biliary) disorders and well as solving multifaceted gastrointestinal problems.
Dr. Szary performs basic gastroenterological procedures such as endoscopy and colonoscopy as well as advanced procedures such as endoscopic ultrasound (EUS), endoscopic retrograde cholangiopancreatography (ERCP), endoscopic mucosal resection (EMR) and the Spyglass procedure.
He holds a Master's Degree in Molecular Biology and Biochemistry which allowed him to research basic mechanisms of gastrointestinal disease. During his training, Dr. Szary received a Presidential Award from the American Association for the Study of Liver Diseases for his work involving non-alcoholic liver disease. He authored multiple research articles in clinical and basic sciences from topics ranging from complications of ERCP to therapy regarding inflammatory bowel disease.
He brings over 15 years of expertise to Gastro Health (formerly GANV) using a patient-centered care approach to improve clinical outcomes and overall patient well being.
Dr. Szary is also fluent in Polish.
Conditions & Procedures
Abdominal Pain
Acid Reflux & GERD
Anal Fissures
Anal Fistulas
Anemia
Barrett's Esophagus
Biliary Disease
Celiac Disease
Cirrhosis
Colitis
Colon Cancer Screening
Colon Diseases & Polyps
Colorectal (Colon) Cancer
Constipation
Crohn's & Ulcerative Colitis
Diarrhea
Diverticulitis
Dyspepsia
Dysphagia
Esophageal Disease
Fecal Incontinence
Gallbladder Disease
Gastritis
Gastrointestinal Bleeding
Gastroparesis
H. Pylori
Hemorrhoids
Hepatitis
Indigestion
Inflammatory Bowel Disease
Irritable Bowel Syndrome
Liver Disease
Obesity
Pancreatic Disease & Pancreatitis
Peptic Ulcer Disease
Swallowing Disorders
Anoscopy
Capsule Endoscopy (Pill Cam)
Colonoscopy (Screening & Diagnostic)
EGD (Upper Endoscopy)
Endoscopic Ultrasound (EUS)
Enteroscopy (Small & Large Bowel)
ERCP & Stents
Esophageal & Colonic Stenting
Esophageal Ablation
Esophageal Dilation
Esophageal pH Testing (Bravo)
Esophageal pH Testing (Breath Test)
Flexible Sigmoidoscopy
PEG Placement
Office Locations
Primary Location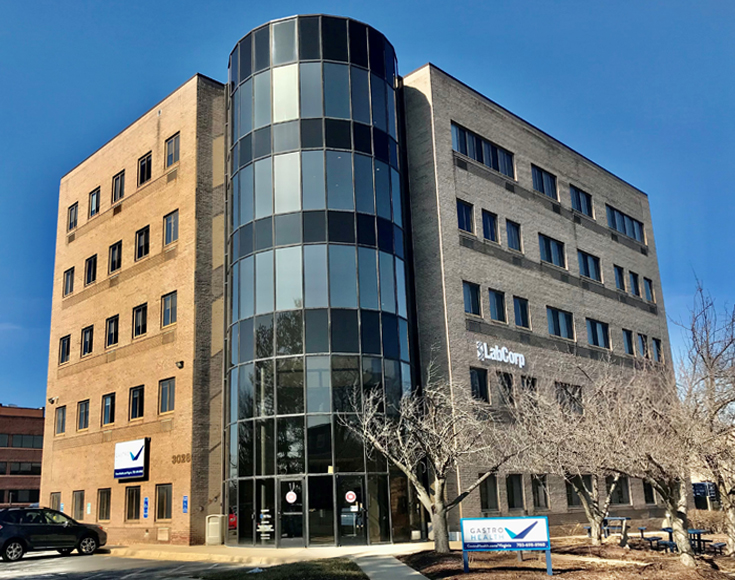 3028 Javier Rd.
Suite 300
Fairfax, VA 22031
Phone: 703-698-8960
Fax: 703-828-0961
Additional Locations
3700 Joseph Siewick Dr.
Suite 308
Fairfax, VA 22033
Phone: 703-698-8960
Fax: 703-828-0961
Procedure Locations
Having a procedure? It may not always be in the same location where you consulted with your doctor. Check with your doctor to make sure you're headed to the right place.
Education
Medical
Saba School of Medicine
Internship
University of Missouri Columbia School of Medicine
Internship
University of Missouri Columbia School of Medicine
Fellowship
Georgetown University School of Medicine
Fellowship
University of Missouri Columbia School of Medicine
Professional Highlights
Certifications
Board Certified in Gastroenterology
Awards & Recognitions
Presidential Award from the American Association for the Study of Liver Diseases
Professional Memberships
Board Certified Gastroenterologist and Advanced Endoscopist